The Essential Guide – The Sims Mobile
Read below The Essential Guide – The Sims Mobile, only on Secret Guides!
The Sims Mobile is a game of life simulation.
After being a popular franchise in the desktop game industry, it got ported as a different variation in mobile devices as well.
Start of the game
In the beginning, you are asked to select your age and immediately redirecting you to create your first Sim.
Explore the fully customizable options and do not worry about parts that are locked. You may unlock them later as you advance in the game.
Interface explained
Explanation of different interface elements based on numbers on the screenshot below: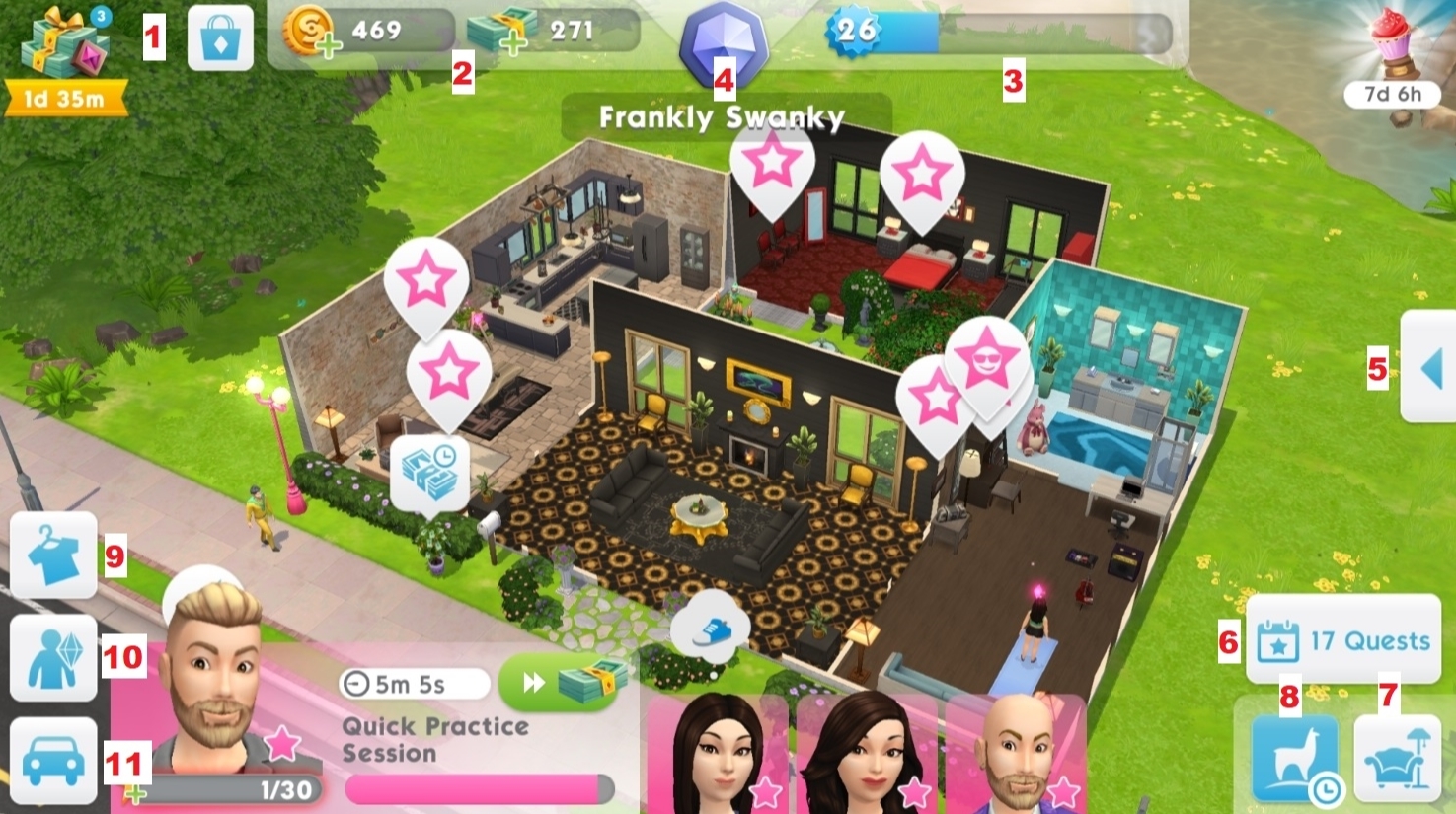 1. In-game shop and deals/discounts that the game occasionally offers.
2. Currency. Simoleons (coins) are used for most things in the game and can be acquired easily either by sending your Sims to work, doing quests or events. Simcash (cash) on the other hand, are very difficult to come by and you are required to save as much as you can and spend them only on extraordinary circumstances.
3. Experience bar. As you complete events, quests and login regularly, you receive experience and level up accordingly.
4. This is your Lifestyle rank. It grows slowly (and is depicted by different shapes & colors) as you upgrade your home, receive appearance or heirloom items.
5. This little arrow pops up a menu where you can see your friend list, available parties (which are events hosted by your friends occasionally), connect your account to Play Store or social media platforms and game settings. Connect your account as soon as possible, as you will be able to store your progress and play your saved game to other devices as well!

6. This is the quest marker. It will give you a list of quests (which are updated all the time). Do not focus a lot on the static quests, but rather make an effort to complete the TIMED quests as soon as they appear!
7. Build menu. Here you may upgrade your home the way you like it! Buy new items, expand your lot, move and adjust your rooms and more!
8. This is a special series of quests, called Llama Zoom. They will appear every few hours and it would be good to try and complete them so you can receive extra rewards and a special type of currency which you will use later.
9. Appearance menu. Here you may change the appearance of any of your selected Sims.
10. Sim traits menu. Here you can observe the progress of relationships (stories), hobbies, careers, traits of your selected Sim.
11. The Drive button. From here you may travel to the City (where you can put your Sims to work or do events), browse the neighborhood and of course, go back to your home!
15 Beginner Tips for the Sims Mobile
The first and second Sims for your home will be free, and you may create the second one shortly after starting with your first Sim. However, you may have 4 Sims total inside your household, but unlocking the Sim slots require 115+550 for the third and fourth slots respectively. It should be your first priority to spend Simcash to buy these two extra slots, as your progress inside the game will be twice faster than playing with your original two.
In order to achieve step number 1, good offers for Simcash will come in handy. Gathering your first 665 Simcash required for 4 total slots will be a pain when trying to gather them through playing. If you are able to make purchases inside the game, the Beginner's pack is an absolute must for around 5 euros, which will almost give you the amount of Simcash needed for the 4 slots.
If you need to make purchases on the Sims mobile, try and get only the ones that show the x4 sign, because they are the most optimal. Always focus on the Simcash value of the offer based on price paid, as Simcash is the most valuable resource. Simoleons (coins) can always be harvested from regular gameplay.
If you want to advance quickly, choosing Quick shifts on pretty much anything is the way to go, because the time required is much less with relatively more rewards than Standard or Long shifts. However, do not forget to put your Sims on Long shifts when you are about to sleep or log off for a few hours.

30 Stamina is always filled up for every Sim every 1,5 hour. So keep this in mind in case you want to plan things ahead.
Focus your relationship stories with pairs of your 4 Sims. This way it will be easier to achieve maximum rank on a story.
Always do different things to each of your Sim, be it work, hobby or story. You will reach maximum rank to each part much faster, and you will not progress on something twice all the way, as it is basically nonsensical.
Try not to buy anything with Simcash. Keep them in order to use them much later on events or something spectacular like a great offer.
When you are ready to level up, keep in mind that the energy of all your Sims will go back to maximum. Make sure you have depleted all of their energy before leveling up.

Focus on the timed quest events! Forget about the ones that have no timer on and only do them by luck or chance, the rewards are not that great there. But the timed events will most likely be a new hobby or career, or premium items! And those will be unlocked much harder if you have not focused on the timed quests and completed them!

Keep cupcakes. Use them when the time comes when you have not managed your time well for a timed quest, and those will greatly help you complete them in time.
Always host your weekly party, and when you find new Sim players, try to add them as a friend! Also, join 2 parties per day for extra rewards and cupcakes.

Use your bed, shower, toilet or bathtub for each of your Sims daily! They give you extra energy on use with a certain cooldown every now and then!

Plan ahead and keep enough Simoleons for certain unlockables like new Districts, Careers, Hobby/Career items etc. Do not spend everything on your appearance and home. You will need to have things ready when your Sims reach maximum level at work and you need to switch to another in order to progress in that too!
15. Don't forget to have fun! Having strategies is nice, but you owe it to yourself to play the way you like it! This is a game where you may fully explore your options in terms of building a house, changing your Sims appearance or interact with the world of the Sims!
If you have any questions or need help we will be more than happy to help. You are welcome to join in our group PRESS HERE. Or contact our administrators. You can also find us on Facebook!