Queridos jugadores, este tema contiene una Estrategia de Armería Divina específica en Legacy of Discord, una característica que se implementó hace algún tiempo, pero que sin duda se ha convertido en una de las más importantes, debido a su potencial para añadir un montón de estadísticas raras a un personaje.
Sin embargo, este post trata de mostrarte cómo aumentar de forma óptima los niveles de cada Habilidad de Armas y cómo distribuir tus Almas de Armas de una forma que te beneficie más.
Estrategia
Primero tienes que saber que cada Arma Ultima tiene 5 ranuras exteriores y una central. Cada una de las ranuras externas ofrece una base diferente o estadísticas porcentuales poco frecuentes. Sin embargo, la ranura central es la única que añade los modificadores Resistencia salvaje o Fuerza del Gigante.
Por lo tanto, es importante tener en cuenta que no es necesario mantener la nivelación de todas las ranuras exteriores al mismo nivel que las demás, sólo para mantenerlas equilibradas con la central.
Esta característica te permite distribuir perfectamente tus Almas de Armas a las ranuras exteriores de la forma que desees.
Sin embargo, la ranura central (que añade los modificadores Resistencia salvaje y Fuerza del Gigante) nunca puede superar el nivel más bajo de una ranura exterior.
Ejemplo: La única forma en que puede llegar al nivel 10 de la ranura intermedia es haciendo que todas las demás ranuras externas sean al menos de nivel 10.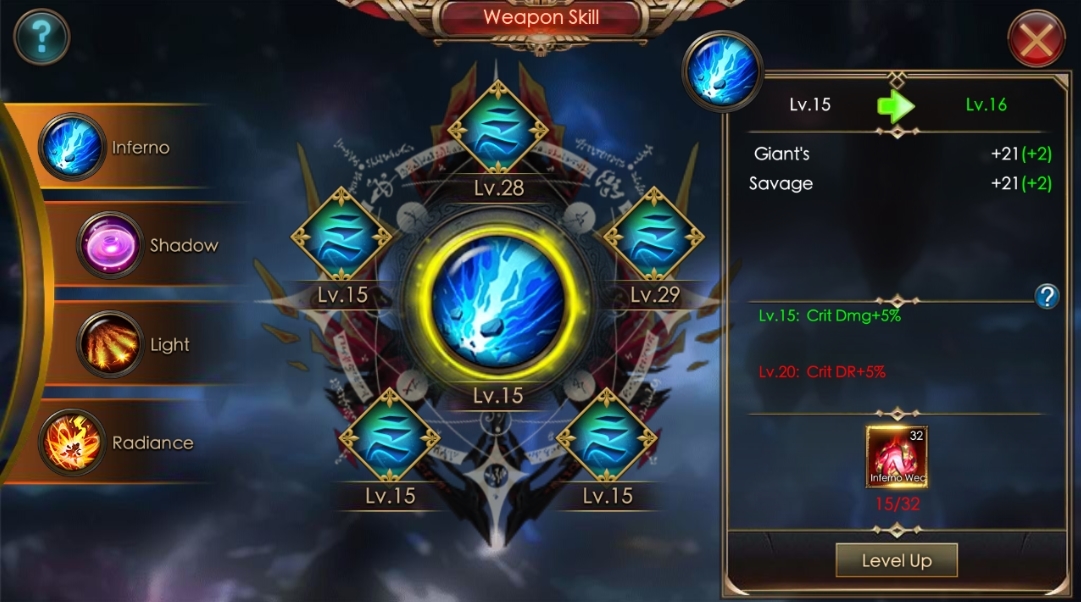 Hay dos factores que debemos tener en cuenta:
1. La fuerza del Gigante / Resistencia salvaje aumenta a través del círculo medio
2. Aumento aislado de determinadas estadísticas en una o más de las ranuras externas
Tenga en cuenta que las ranuras superior y superior derecha contienen las estadísticas raras de RD% y DE% respectivamente.
A lo largo de nuestro tiempo de juego en Legacy of Discord, nos hemos dado cuenta de lo importante que son esas estadísticas en comparación con el RDC% o el DC%.
Por lo tanto, sería prudente centrarse un poco más en esas dos ranuras, como se muestra a continuación: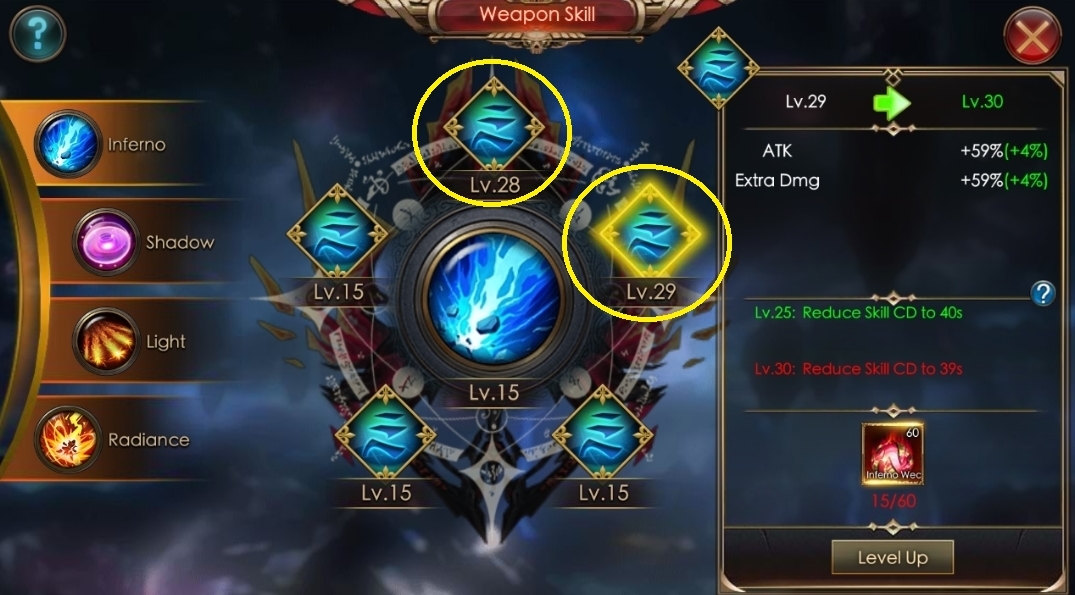 Ahora, muchos jugadores pueden llamar a los modificadores de Resistencia salvaje y Fuerza del gigante (G/S para abreviar) falsos o "esponjosos" PB como ellos lo llaman.
Aunque estoy de acuerdo en que puede añadir una gran cantidad de PV innecesario que de alguna manera puede distorsionar su PB a la relación de potencia bruta, también añade una gran cantidad de la estadística ATQ que es de suma importancia.
Para decirlo de forma sencilla, debería haber una línea en algún punto que no debería cruzar mientras aumenta sin pensar los círculos DE% y RD%. En algún momento, sería mejor empezar a aumentar el círculo medio de tu G/S en lugar de poner más de tus almas en los círculos de DE% y RD%, y este es el punto de este post. Promover una proporción que he encontrado realmente óptima en términos de avance en esta característica.
Copyright protected by Digiprove © 2019 Master