5 Best Strategy Games for iPhone and iPad
Video games have always been in vogue, ever since the Nintendo days, ever since Tetris and Mario days. However, in between Video Games became a thing most popular in PlayStations and Xbox and Computer systems. But not anymore, this is the generation of portability and ease and convenience, and nothing is better equipped for that than an iPhone or iPad, which is why strategy games have picked up immense popularity in these devices.
So all of you strategy gamers who love to figure out puzzles and move units across screens, exercising your brains and thumbs, you must really want to know which are the best strategy games for iPhone. Many think that small screens aren't great for strategy games, but I beg to differ, strategy games are awesome in small screens, one you could play in the metro, while waiting in line at the groceries or even in your class rooms (at your own risk.) So these are the best strategy games for iPhone, ranked.
Part 1: Skulls of the Shogun
One of the best iPhone strategy games out there has got to Skulls of the Shogun. If you love samurais and you love the underworld realm of ghouls and monsters then this is the perfect game for you. it is set in a stylish Underworld arena that looks so gorgeous in its ghoulishness that it could very well be something out of a Tim Burton movie. Find listed below some of its features that makes it one of the best iOS strategy games.

Features:
1. The gameplay is fast and provides rapid progression.
2. The AI is one of the smartest amongst all the strategy games and can determine your weaknesses in order to defeat you.
3. Battles are turn-based unit with limited actions, though you can recruit infantry and defense throughout the gameplay.
4. The most unique feature of the game is in the name itself. After you destroy your enemies you get to consume/ eat their skulls to restore health.
5. Has loads of replay value as you are constantly forced to reevaluate your strategies. It is definitely not a 'light' game.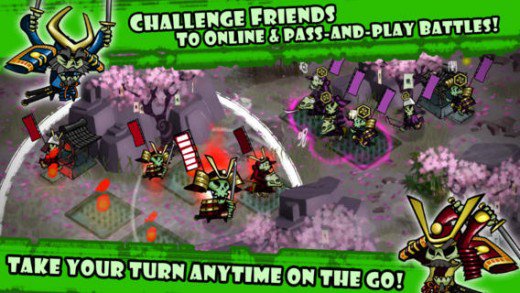 Part 2: Autumn Dynasty
Second in the list of the best iPhone strategy games is Autumn Dynasty. Set in Asia, this has great and aesthetically pleasing graphics and is set in the times of feudal China. The wars are fought between the various feudal rulers in their quest for land, money and power. You can retreat into a world long lost and immerse yourself into a time and social structure straight out of the history books but in a manner evocative of the greatest of Oriental artworks. Find listed below some of the gameplay features that contributes to its placement as one of the best iOS strategy games.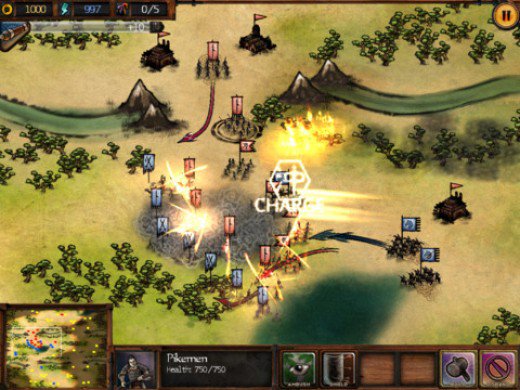 Features:
1. Requires great strategic thinking as your players come with their own unique skills, as do your enemies.
2. Has a simple base building system via the drag-and-drop solution. This lets you focus on what's important i.e., strategy.
3. Interactive environment, which can be used by players for strategic purposes. Mountains and hills can be used for better height tactics, and one may hide behind shrubbery or camouflage to surprise enemies.
4. The smudgy paint brush graphics makes it visually gorgeous. It looks like you're playing within an oriental painting.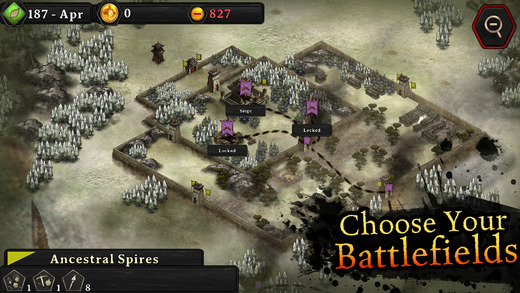 Part 3: Crimson: Steam Pirates
This game makes it to the third position in this list of best strategy games for iPhone because it fulfills one of the fantasies that most people have as children – living the lives of pirates. This strategy game transports the players into a world that isn't governed by rules and ethics but by loot and plunder, rising in ships from one port to the next, raiding and looting at will, fighting with other pirate ships, etc. Some of its features making it one of the best iOS strategy games are as follows.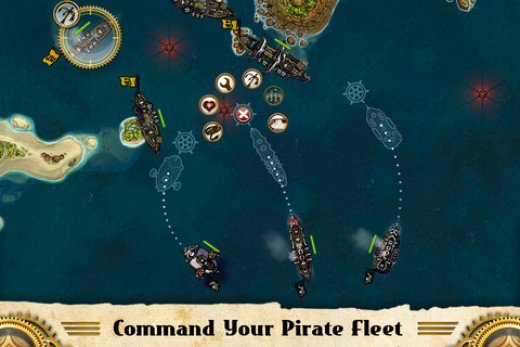 Features:
1. The graphics are designed in the stylings of a slick graphic novel.
2. The story is gripping and has a strong narrative arc. It is revealed slowly over time, in the form of a journal entry.
3. There's a world of possibilities with this game. The players can indulge in some looting outside of the mission, or go treasure hunting, or get into fights with other pirate ships, blasting cannon balls at each other.
4. It isn't turn-based combat, which makes the gameplay more fluid, unpredictable and interesting. The combat is determined based on factors like speed and number of crew members.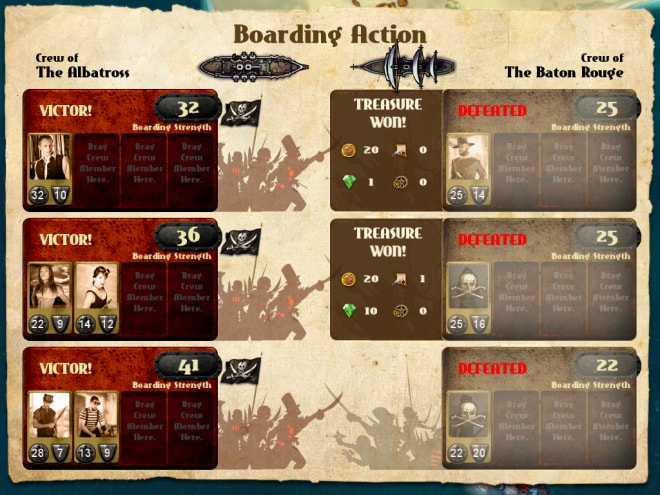 Part 4: First Strike
Coming in at number four in the list of best iOS strategy games is First Strike, which is a game about launching a nuclear warfare setting the world into the third world war. It would appeal to those of you who like to play as villains or at least those nihilistic few who like to see the world as composed of a series of bad decisions. In it you have to basically build up armament, research new technology, and if you feel it's necessary then launch a nuclear bomb at a country. It isn't available in iPhone, however this is great game to play on your iPad. So, some of the features that brings it to this list of best iOS strategy games are given below.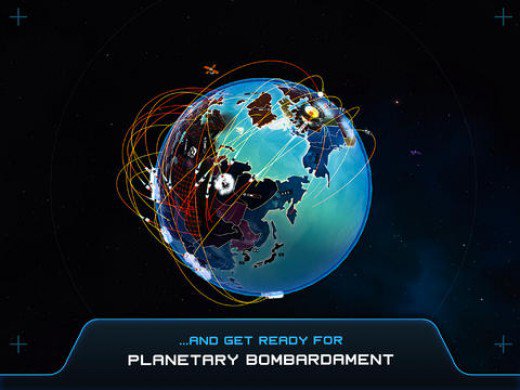 Features:
1. Unique gameplay, taking control of a county's nuclear stockpile and launching a war against enemy nations.
2. Strong AI which makes the game complex, and gets you to really strategize the best plans to either start or win a war.
3. The missiles may be used to collide against oncoming missiles, thus serving as defense. Or they may be used as offense against other countries. You have to decide how or when to deploy them. Every decision has an outcome on the complete gameplay.
4. Whereas most strategy games go feudal in nature with clans and knights, this game has the audacity to go into a grim dystopian future.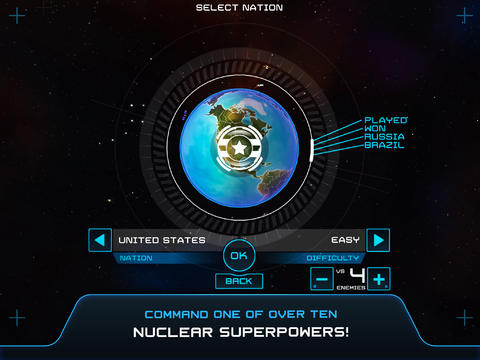 Part 5: Clash of Clans
Finally, stealing the final spot on the list of best strategy games for iPhone is the popular Clash of Clans. This game likely doesn't need much of an introduction as it's something of a household name. But anyway, for the few of you out there who might have had their heads stuck under the sand for the past couple of years, here's a brief description. Clash of Clans is a strategy game in which you can build villages, and armies replete with wizards and hulking barbarians. You can forge alliances with other clans, get into wars with enemy clans and boost your ratings. Some of the features making it one of the best iOS strategy games are.
Features:
1. Building villages, while focusing on defending them and raising resources as well.
2. Raising an unstoppable army comprising dragons, hog riders, archers, warriors and wizards.
3. Multi-player system in which you can make or break alliances with other clans.
4. Play against other players from around the world.
5. Epic Clan War battles.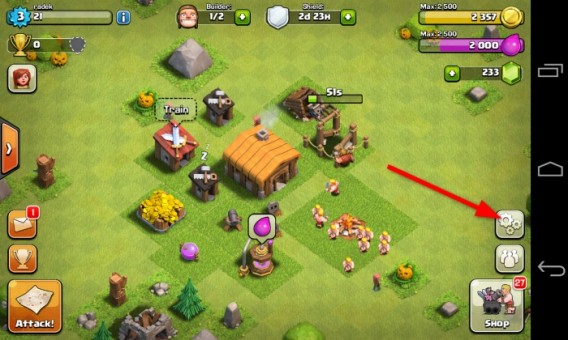 Part 6: Record iOS games on your device
Now that you know which are the best strategy games for iPhone, now comes the most interesting part – recording them. In this age of sharing, you can record your gameplay and cool strategies and share them over on YouTube so that you can develop a following and interact with other players, find out their strategies, improve, etc. If becoming a YouTube sensation isn't your thing, then you can simply record the gameplay to share with your friends, or for yourself even!
However, although iOS devices come with means of taking screenshots, they don't have an in-built system to capture videos, which means you have to rely on external tools or software. One of the best tools by which you can record your gameplay is iOS Screen Recorder as it can be easily installed and effortlessly used to record your gameplay. It is really all-purpose in nature and kind of a one-stop-shop for your recording needs. Other than directly recording your devices, it also allows you to mirror your device onto a computer screen in order to enjoy the gameplay in a larger screen.
One click record iOS games on your iOS device or computer.
Simple, flexible and Ad free.
Record apps, games, and other content from your iPhone.
Export HD videos to your computer.
Supports both jailbroken and non-jailbroken devices.
Support iPhone,iPad and iPod touch that runs iOS 7.1 to iOS 13.
Offer both Windows and iOS programs (the iOS program is unavailable for iOS 11-13).
If you have any questions or need help we will be more than happy to help. You are welcome to join in our group PRESS HERE. Or contact our administrators. You can also find us on Facebook!