iOS racing games- Rev your iPhones
Looking for some rapid racing thrills? You don't need a console or a high-end computer (or a car, for that matter): your iOS device can ably fill the void with an array of great games, many of them available for free.
Whether you're in the mood for arcade antics or a slick simulation, prefer asphalt or off-road racing, or specifically crave something with or without wheels, we've got you covered. You'll find a whole lot of iPhone and iPad racers on the App Store, but these 12 represent our most current picks for the best of the bunch—and we've put an eye towards variety, too, so no two games here are super close in feel or approach.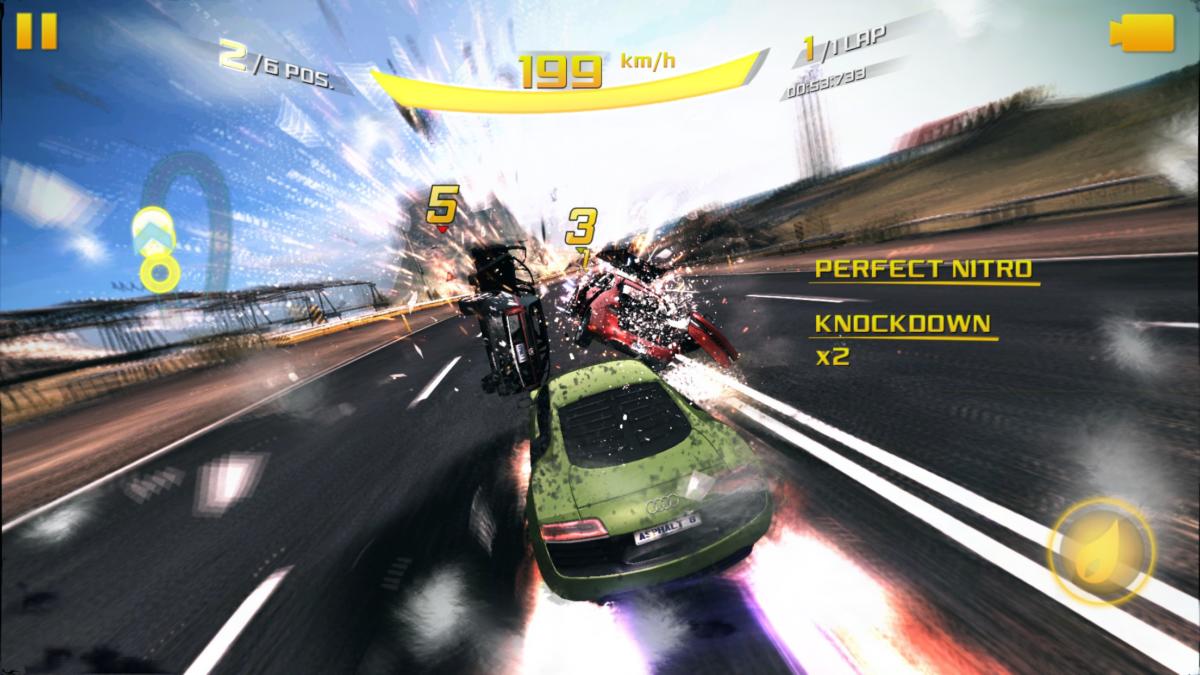 Asphalt 8: Airborne
Four years and more than 200 million downloads later, Asphalt 8: Airborne (free) remains the gold standard for over-the-top racing on iPhone and iPad alike—and creator Gameloft seemingly agrees, since there's been no sequel and the game has been continually updated since.
Asphalt 8 is loaded with arcade-style action as you boost, spin, smash, and soar through an array of locations across 400+ career events, with more than 130 licensed cars to unlock. It's the fastest four-wheeled racer on the App Store, and besides the heap of single-player content, there's also live online races to keep your pulse racing. It's a freemium game, but so long as you can tolerate a bit of prodding about in-app purchases, you can have a lot of free fun here.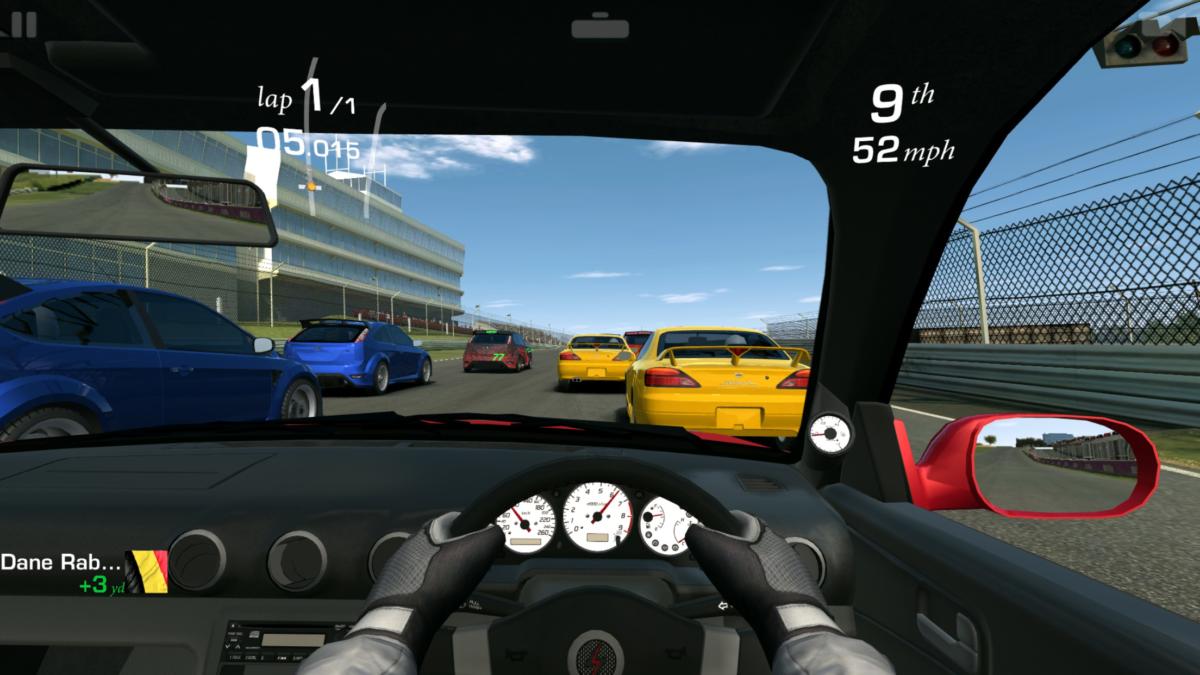 Real Racing 3
Asphalt 8 might nail the insane, over-the-top approach better than any other iOS racer, but Real Racing 3 (free) is our pick for more realistic, simulation-style circuit racing. EA's game drops you into 18 real-life locations and lets you battle it out for supremacy with precision driving and an immersive first-person, behind-the-dashboard perspective.
It's also vast, with thousands of events available spanning various game modes, as well as 170 real cars available to command and customize. Real Racing 3 also implements real-life NASCAR and Formula E teams for certain events, plus it has online multiplayer to go along with all of the solo action. Real Racing 3 is a lot more grounded than Asphalt, but it's just as absorbing.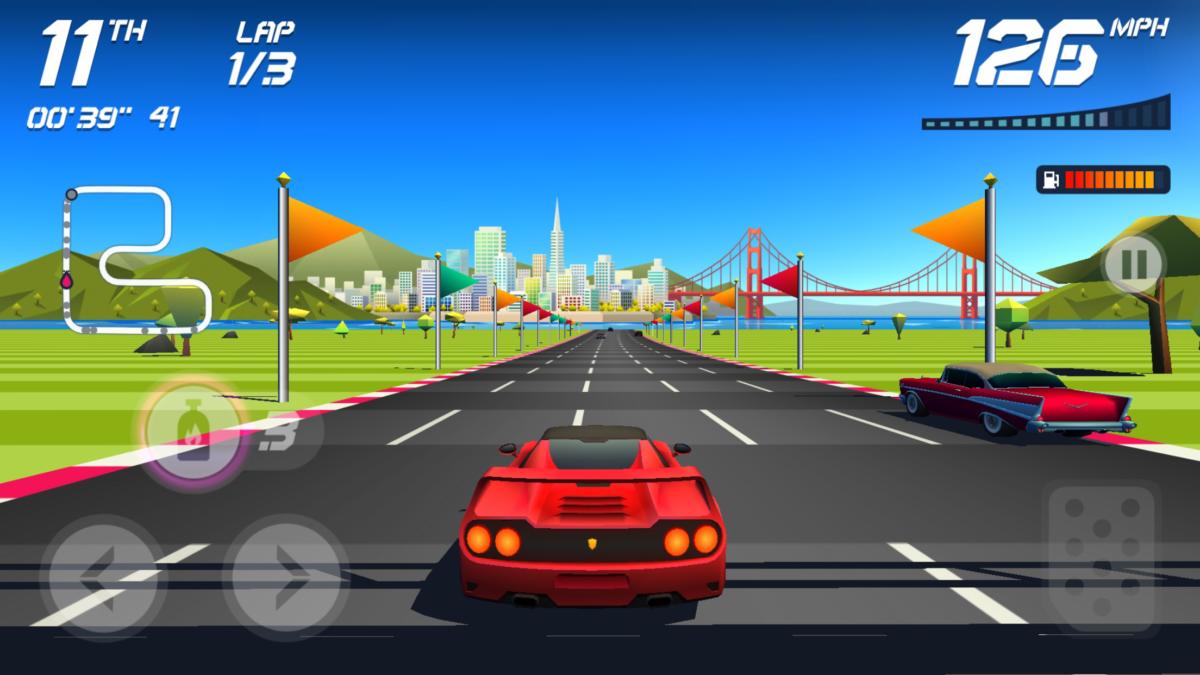 Horizon Chase
Horizon Chase (free) recalls a very specific time in gaming history: the early '90s, when hits like Out Run and Top Gear ruled the racing genre. And this loving tribute feels just like a contemporary of those decades-old favorites, recreating the sensation of playing those golden oldies while given a modern-meets-retro visual overhaul.
The result is incredibly cool, although it has a different feel from a lot of the games on this list—it's more rigid, and a bit less forgiving in its design. But that's part of what makes Horizon Chase so appealingly unique in the App Store, and with 80+ original tracks to take down, you'll find plenty to play here. It's a free download with a demo portion, but $3 within unlocks the full game with no freemium annoyances.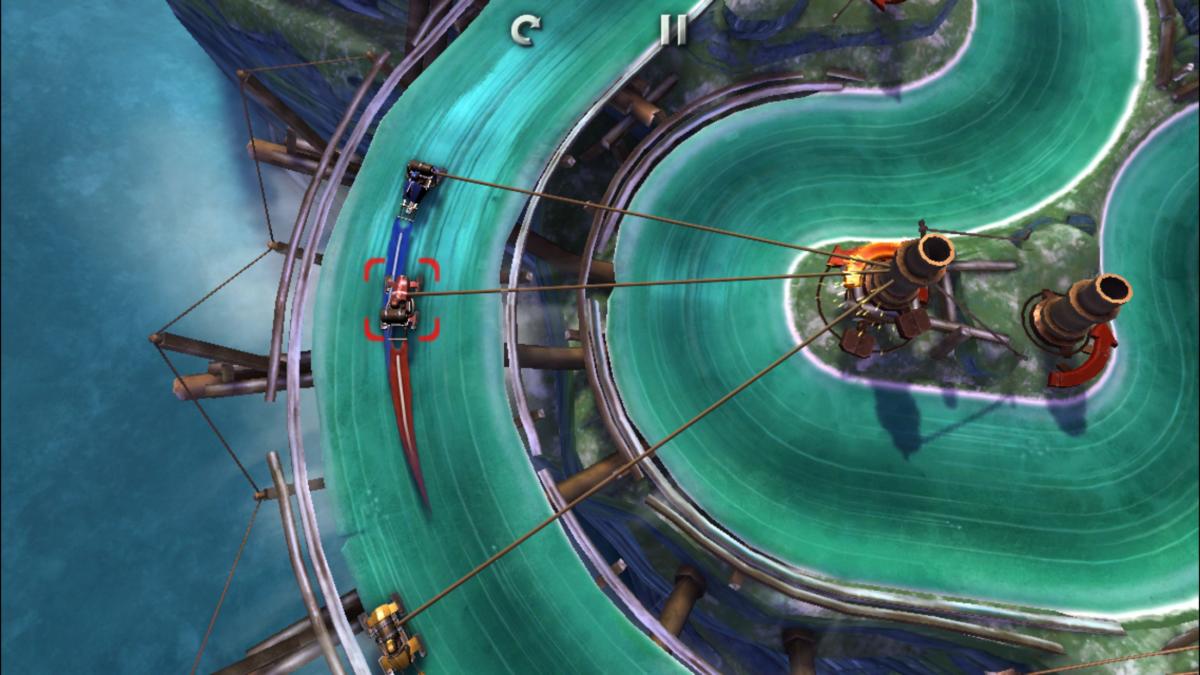 Slingshot Racing
It hasn't been updated in a few years, but Slingshot Racing ($1) still stands as one of the freshest racers to ever hit the App Store. See, you'll never actually steer your car or manually accelerate—instead, your car automatically whips along the winding circuits, and you're tasked with using a grappling hook to swing around each curve.
Timing is everything here, since you're swinging at the same time as other racers and need to not only get around the curve without crashing, but also try to get ahead in the process. The gorgeous steampunk-esque aesthetic really adds to the one-of-a-kind feel, and you can even have four people play on the same device in local multiplayer action.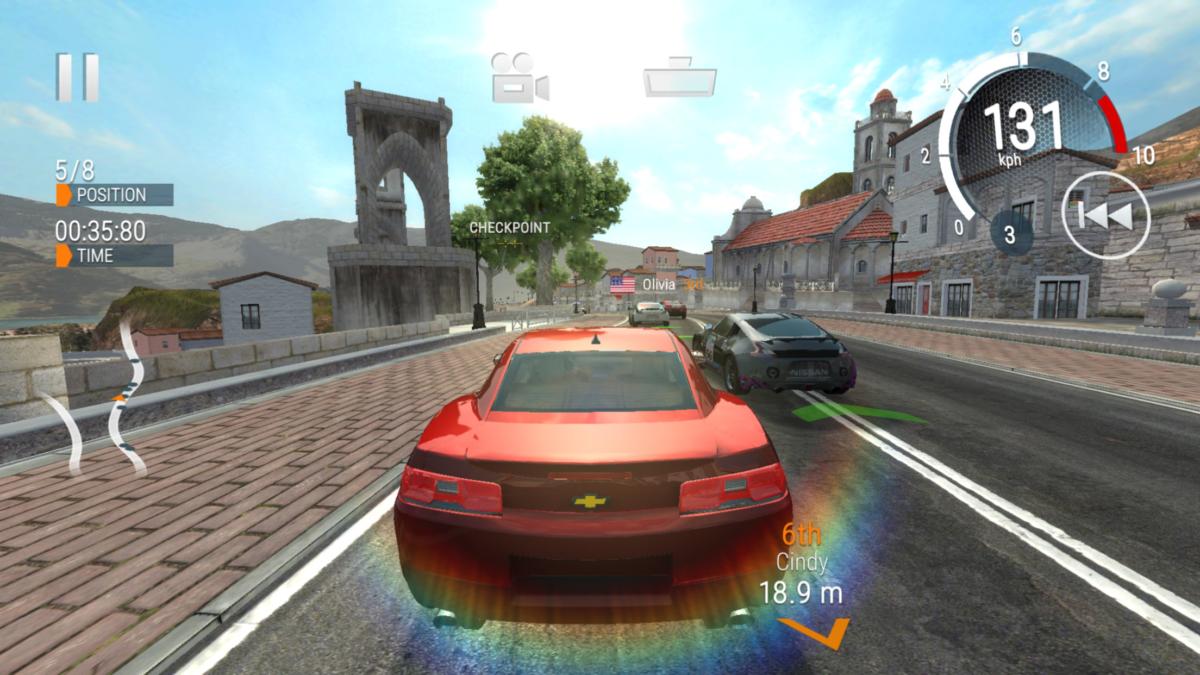 Gear.Club
Eden Games is best known for developing the vast and immersive Test Drive Unlimited games on consoles and PC, so it's no surprise that the studio's Gear.Club (free) for iOS is likewise immense and quite attractive to boot. It looks and feels very much like a console-sized racer, albeit broken down into bite-sized chunks and augmented with a free-to-play model.
Gear.Club takes on a simulation-style approach with some of the fastest cars in the world—and these exotic rides look as good as they do in real life. The game puts a strong emphasis on tuning as you expand your garage and augment certain parts for improved performance, and the huge campaign mode offers loads of events to enjoy.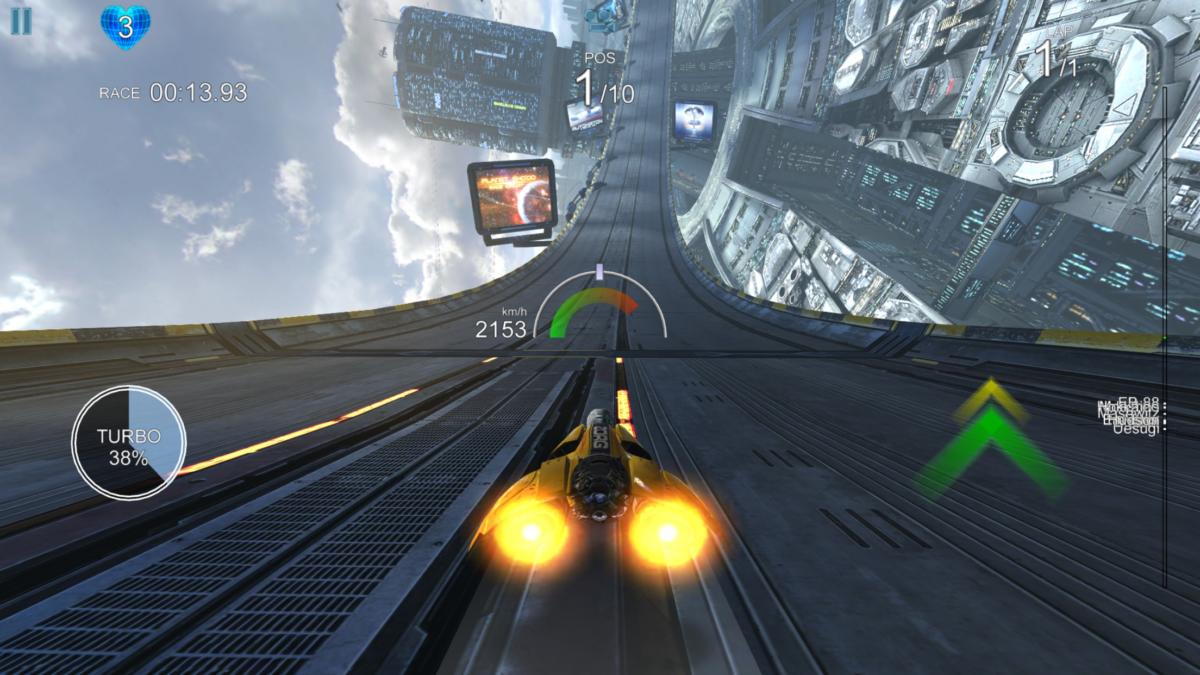 AG Drive
If you prefer your racing games with a lot less wheels involved, then maybe AG Drive ($4) will be up your alley. Blending inspiration from console classics like F-Zero and Wipeout, AG Drive is an insanely fast hovercraft racer that sends you speeding around and across looping tracks suspended in midair. Gravity: who needs it?
The sense of speed is incredible, even on a small phone screen, and the graphics are dazzling—but it's a tough one. You'll have to learn the nuances of each craft to really succeed on these crazy track layouts, and one bad mistake can totally botch your run. However, that's very much par for the course for these types of futuristic racers, and AG Drive is the best of its kind on the App Store.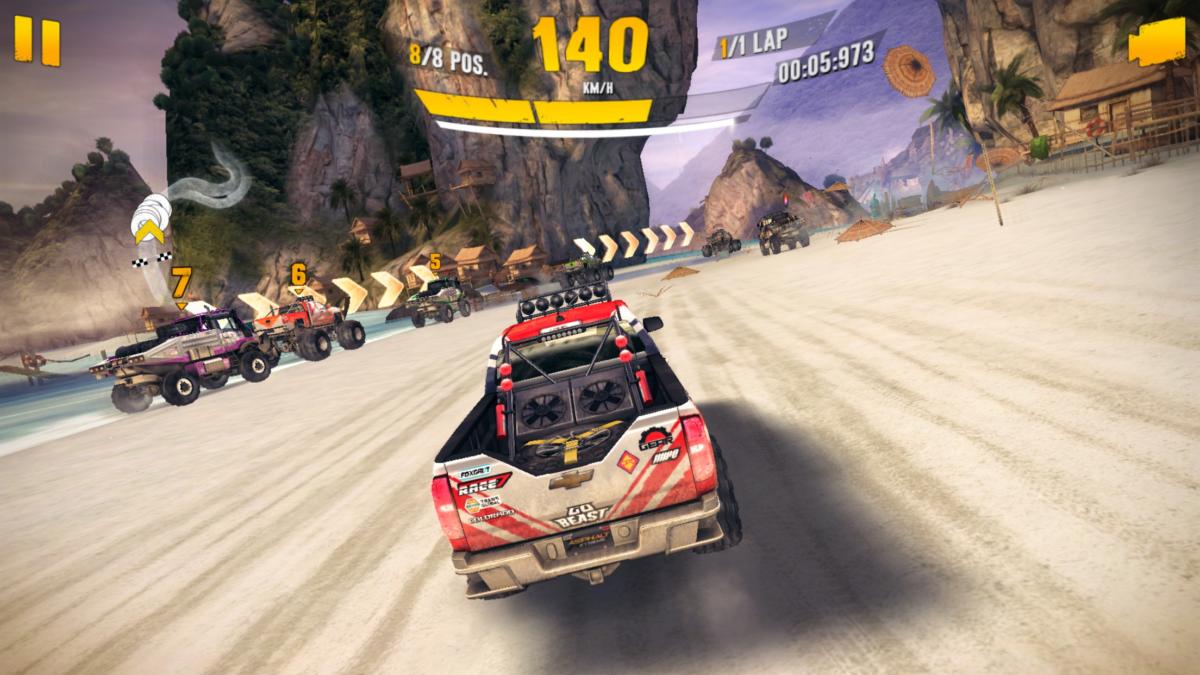 Asphalt Xtreme
While it's true that Gameloft hasn't moved on from Asphalt 8 when it comes to mostly on-road action, the publisher has explored new kinds of terrain with the entertaining Asphalt Xtreme (free). It's not a big shift in approach: this racer is still all about high speeds, big air, and violent takedowns, but now you've got a lot more variety in terms of rides and racetracks.
Asphalt Xtreme shifts most of its racing away from roads and towards dirt roads, muddy jungle paths, and even slippery ice, plus you can drive monster trucks, buggies, rally cars, and other off-road-primed vehicles. It's like a mobile version of the great MotorStorm console series, and while the freemium elements are a bit cluttered, the actual game is still a blast.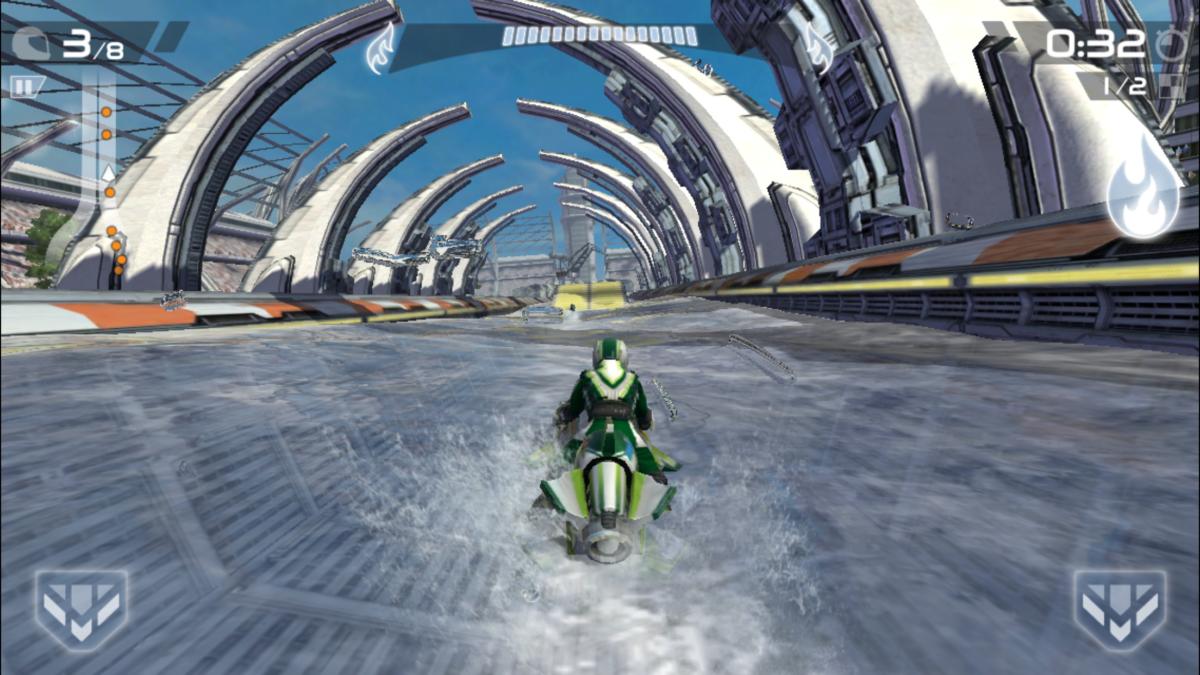 Riptide GP2
Looking for aquatic antics? If you're in the mood for something like Nintendo's classic Wave Race 64, then Riptide GP2 ($2) is your best bet on the App Store. This jet ski racer features impressive waves and graphics, tense competition, and an array of liquid-heavy locations for you to zip across. And besides the single-player career mode, it also offers online battles.
Riptide GP2 isn't actually the most recent of the series, as last year's Riptide GP: Renegade ($3) is also worth a look. It shifts to a harder-edged "underground" aesthetic and has a different feel to it, even if the actual racing action is about the same. It's the prettier game of the two, although we slightly prefer the simplicity and less aggressive tone of Riptide GP2.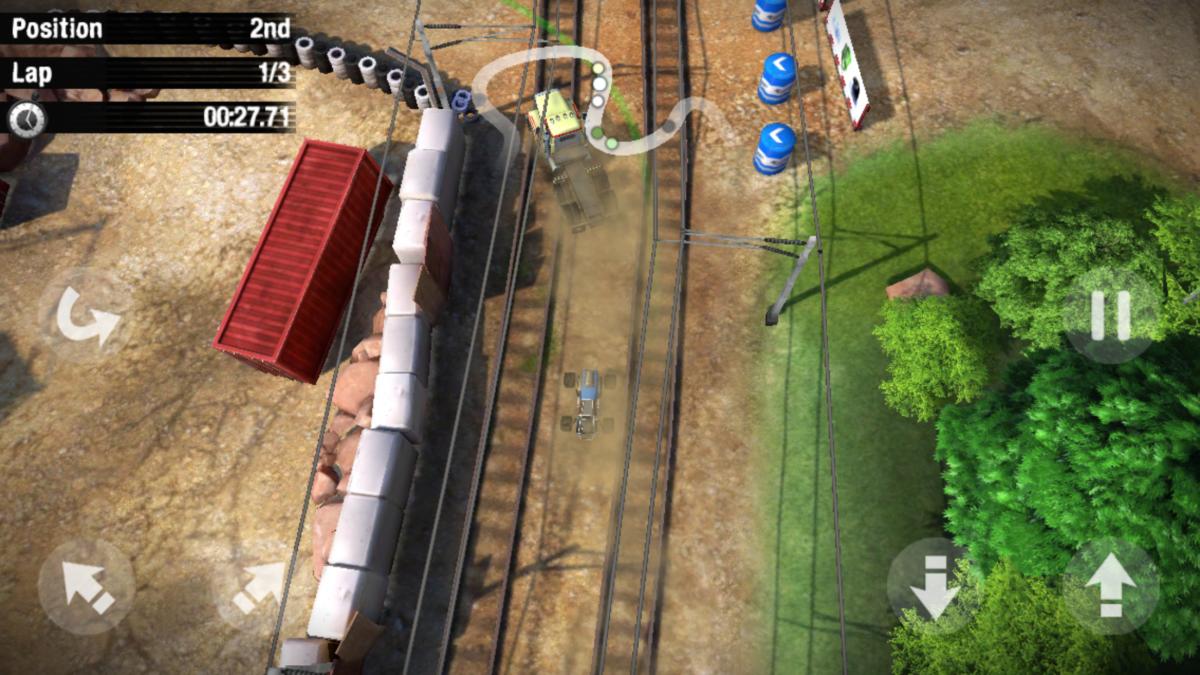 Reckless Racing 3
Reckless Racing 3 (free) offers the same kind of off-road approach as Asphalt Xtreme and spans a variety of different mud-friendly vehicles, but Pixelbite's game shifts the camera upwards and lets you scope out the action from above. That totally changes how you control the game, but it also opens the doors to different kinds of events.
In addition to typical finish-line sprints, Reckless Racing 3 also has Gymkhana events, which challenge you to pull off stunts on obstacle-laden courses, as well as a Drift mode for whipping around lengthy curves in style. It plays like an old-school arcade racer, given the perspective, but is loaded with content and has a slick, modern look.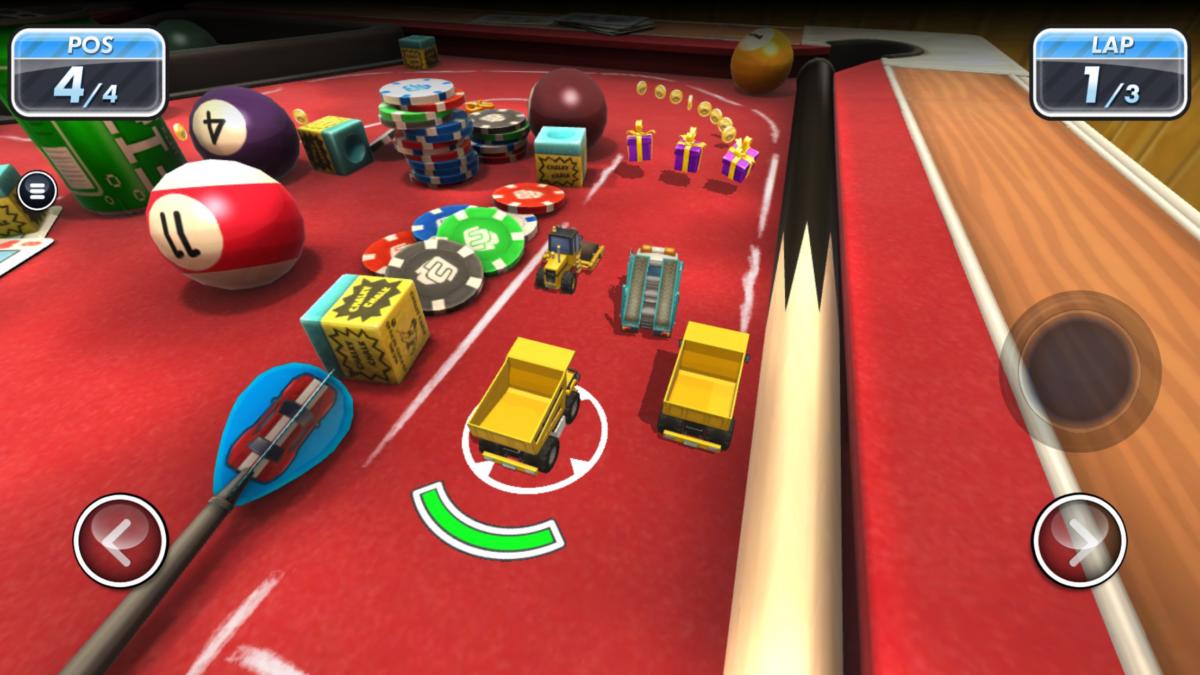 Micro Machines
You might remember Micro Machines (free) from a couple decades ago, but do you recall the tiny toys or the great 16-bit video games? In either case, you'll probably get a kick out of the new game, which lets you race the little cars and trucks across enormous everyday locations—like a billiards table or kid's bedroom—while firing off weapons to gain an advantage.
It's like Nintendo's Mario Kart, essentially, but with a nostalgic toy twist. Micro Machines serves up a wide variety of cars, courses, and challenges, and even has G.I. Joe and and NERF tie-ins along the way. There's a lot to play here, although the free-to-play grind can be a bit annoying. Even so, this is a very fun freebie.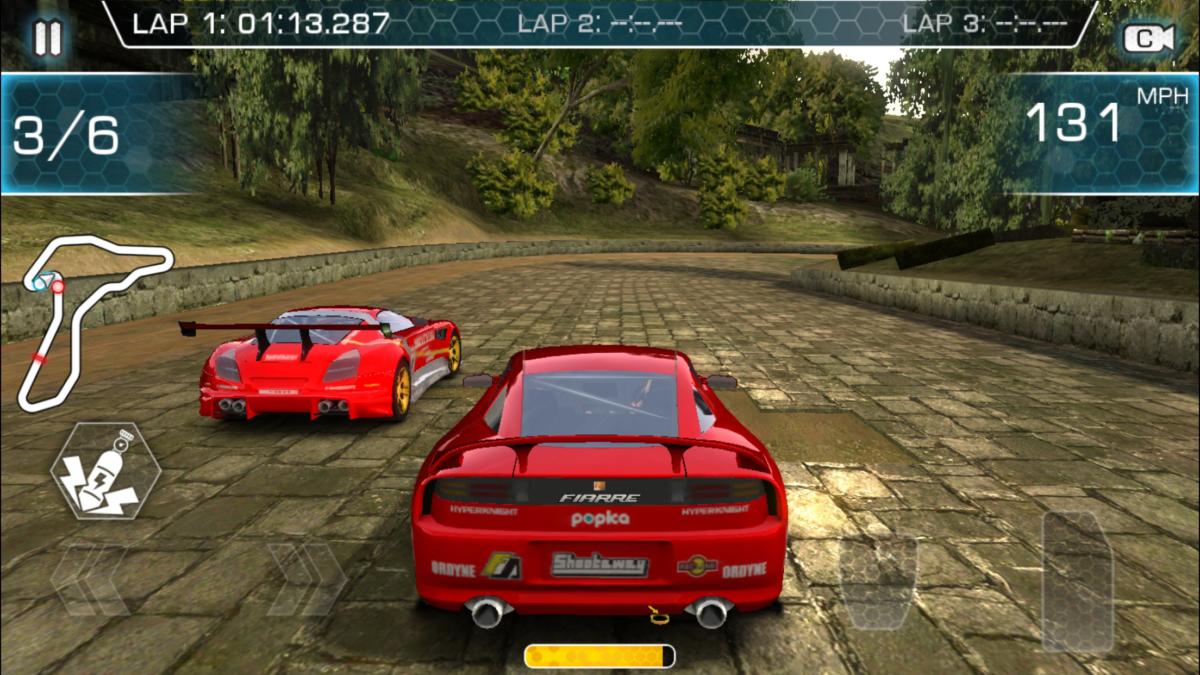 Ridge Racer Slipstream
Ridge Racer is one of the most legendary racing series on consoles, especially for PlayStation devices, and Ridge Racer Slipstream ($3) does a pretty good job of translating the experience to touch. Most importantly, it keeps the game's distinctive feel, putting a big emphasis on powersliding around turns as you speed through an array of slick circuits.
While not as large of an experience as the console games, Slipstream gives you a lot to work with for just three bucks: a dozen customizable rides, 20 tracks, more than 100 events in the career mode, and live online multiplayer action. If you've ever loved a Ridge Racer in the past, then Slipstream should satisfy—and if you don't know the series, well, it's a fun ride.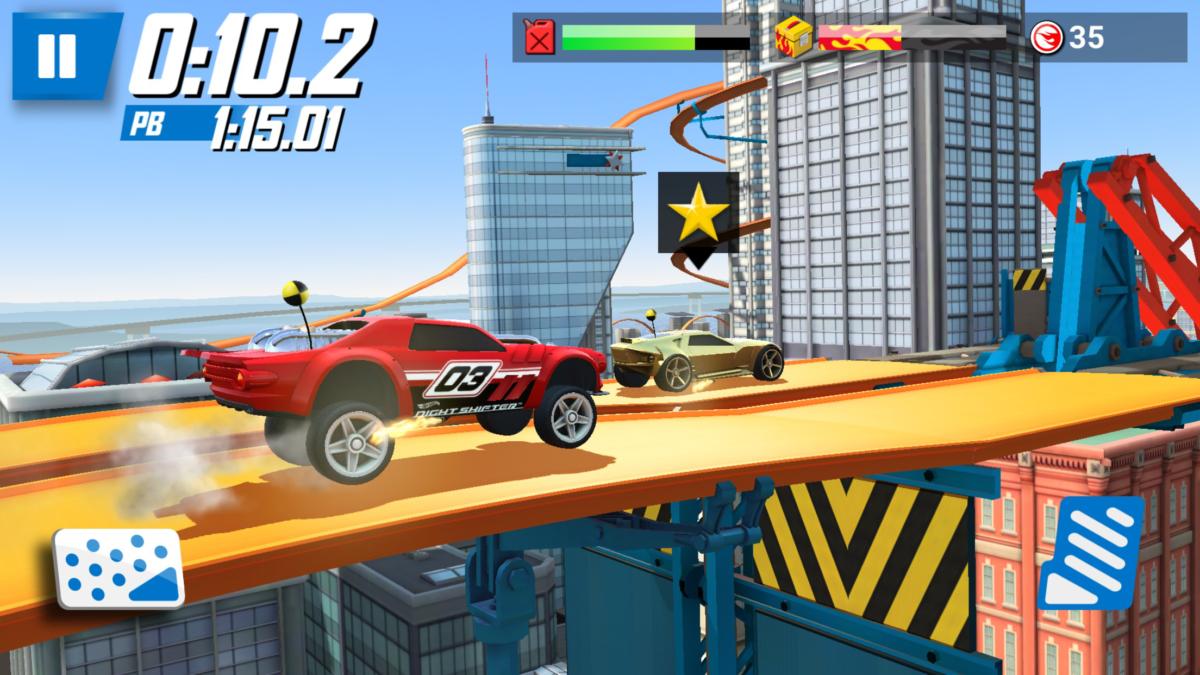 Hot Wheels: Race Off
Micro Machines isn't the only classic toy brand put to good use on the App Store: Hot Wheels: Race Off (Free) is right there alongside it, albeit with a very different kind of game. Here, you'll go ahead to head with another car, but you're really battling the track more than the rival. That's because you'll need to speed up, slow down, and rotate your ride to overcome each obstacle and odd quirk you face.
Race Off does an excellent job using the source material, with the twisting orange track and colorful, familiar cars looking like they just came off of a toy store shelf. Some of the free-to-play barriers along the way are obnoxious, unfortunately, but they're not enough to sap the spirit of this slick sprinter.
If you have any questions or need help we will be more than happy to help. You are welcome to join in our group PRESS HERE. Or contact our administrators. You can also find us on Facebook!